Biography of Pixal Parazit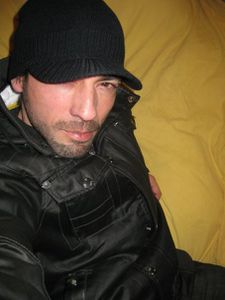 About the artist:
Street art artist and plastician, born in 1972 in Paris. Autodidact.
Influences :
Influences: Drawing, cartoons, comics, portraits, photography, sculpture, architecture, 80's hip hop culture, history, movies, multimedia and travels.
Background:
From childhood, he enjoys inventing spaceships and fantastic figures of all sorts to illustrate all its notebooks.
He constantly draws so as to decorate unusual sites such as the throwaway paper tablecloths of restaurants.
During adolescence, he develops his artistic aptitudes by immersing himself in his photography lessons, in his experience of animator in a bilingual local radio, in his practice of urban sports such as the skateboard and in the hip hop culture.
Later, he works for the event industry where he creates volumes for prestigious window shops, photography sessions and varied exhibitions.
For his personal purpose, he dedicates himself to the realization of stencils which allows him to represent at the same time the daily events and his imaginary universe.
Occasionally, he participates in national Street Art gathering exhibitions like 'La Nuit du Street Art','Hauts les Arts', 'Aux Arts Citoyens', 'Kosmopolite', Stencil Project, Tecknival etc.... where he accomplishes performances on large eclectic supports linked to urban culture, ' Tunning ', ' body art ' and other practices of ' Customisation '.
From there onwards, he will regroup his peers to organize or get involved in international projects like Stencil Project, Difusor, etc... and will be offered the management of a dedicated location for artists.
In parallel, his work will begin to be exported and displayed in galleries abroad or sold by auctions locations such as Drouot.
Moreover, he provides discovery courses for children and disabled people on use of street art techniques.
Today, he continues regularly to participate, collaborate and promote artists & stylists in art, fashion, broadcasting, luxury, home and green industry and never stops enjoying getting public's interpretation those works.
Contacts:
Email: parazitologique75@hotmail.fr
Site Internet:
www.fotolog.com/pixalparazit/
www.fotolog.com/pixal_parazit/